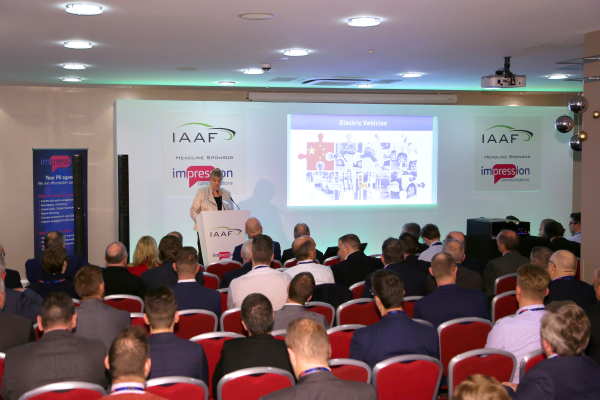 Technology to dominate December's IAAF Conference
---
14 Oct 2019
Category: Articles, Press Releases
The IAAF is to welcome a top list of industry speakers to its 2019 Annual Conference on 5 December, due to take place for the third year running at DoubleTree by Hilton, Milton Keynes, with technology the central theme.
The Conference, sponsored by automotive aftermarket specialist PR company Impression Communications, will be based this year on the theme of "How technology is transforming the automotive aftermarket", which will aim to examine current issues from both the UK and Europe, highlighting the many changes that are taking place across the industry from a technical, legislative and market perspective.
The agenda will feature some of the industry's leading names as they gather to share their views on some of these current and future technologies, alongside record breaker, entrepreneur and motivational speaker Richard Noble, OBE, founding Director of The Bloodhound Project and current holder of the World Land Speed Record set in 1983 with the Thrust2 programme.
Also among the list of speakers will be Andy Hamilton, CEO of Euro Car Parts, who will be championing the success of independent garages across the UK; Hayley Pells from Avia Autos, Winner of Garage of the Year 2019 will be in attendance, discussing how her garage business is facing today's challenges; Thatcham research's Head of Repair Sector Service, Dean Lander, will be addressing the challenges that are facing the industry with the growth in ADAS in vehicles, and Co-founder of Whocanfixmycar.com's Al Preston will talk to delegates on how the internet is transforming how customers are finding workshops in which to service and repair their vehicles.
There will also be the Conference's regular update from the DfT on current legislative matters in the UK, along with an update from Neil Pattemore from FIGIEFA on the latest technological threats and challenges in the EU and how this will impact the aftermarket.
Once again, the federation will look to produce another engaging debate for its Conference guests, where IAAF's Head of Membership Development, Mike Smallbone, will be facilitating the proceedings and welcoming around 150 attendees, most of whom will include parts suppliers, distributors, garages, as well as representatives from the industry and aftermarket trade press. The day's proceedings will then draw to a close with new President of the IAAF, Terry Knox.
Wendy Williamson, IAAF chief executive said: "We're delighted to already have secured our line-up for this year's Conference, for what is anticipated to be a very popular one, particularly with the addition of Richard Noble to our roster. His life story is a tale of great struggles and success, and our members will no doubt be gripped by his extraordinary achievements as a pioneering explorer and founder of the Bloodhound Project. We have a fantastic mix of talks lined up from some excellent speakers, and the audience will be treated to a thoroughly absorbing and enjoyable day." 
"The theme of this year's Conference will provoke some serious and inspiring thought, the automotive industry has always embraced technological advances but the pace of change has accelerated rapidly over the last few years, thanks to 5G connectivity, the emergence of new lifestyle trends such as car sharing and how responsive transport is transforming our industry sector."