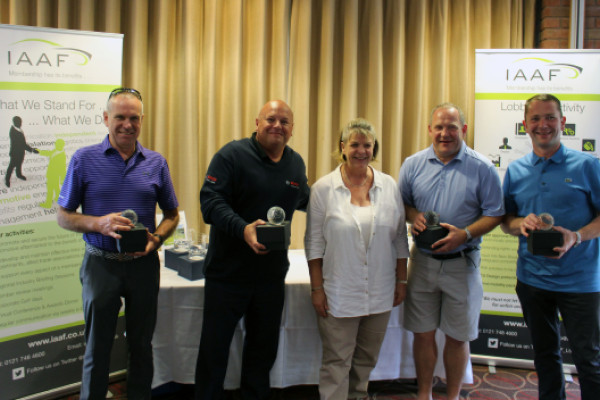 Sun shines on IAAF Golf Challenge 2019
---
05 Sep 2019
Category: Articles, Press Releases
Independent Automotive Aftermarket Federation (IAAF) has successfully hosted its second Team Golf Challenge at The Abbey Hotel, Redditch in aid of automotive trade charity, BEN.
Managing to avoid the harsh weather conditions that had affected most of the UK that week, more than 10 teams navigated the championship standard course in the heart of Worcestershire.
In what was a very close contest, the team from West Midlands based motor factor Midwest Motor Factors emerged as winners, with the Robert Bosch team coming runners up.
In addition to the winners and runners-up trophies, there were prizes for 'Longest Drive', which went to Tom James from the sales-i team, and 'Nearest the Pin', which went to Andrew Tuby from the Sogefi team. Best individual score went to Martin Gardener of the Robert Bosch team and Tom Irving from Melett picked up the winner's prize in the hotly-contested putting competition.
The result means the Sogefi Filtration team are the overall winners of the IAAF BEN golf challenge for 2019 and granted four free places at the IAAF Annual Awards Dinner, which will take place on Thursday 5 December at the DoubleTree by Hilton Hotel, Milton Keynes.
The event sponsors for the day were:
Nearest the Pin:                   Impression Communications​
Longest Drive:                      NGK​
Light Refreshments:            Sogefi Filtration
Golf Balls & Tees:                Automechanika Birmingham
IAAF chief executive, Wendy Williamson, said: "We were extremely fortunate with the weather and the camaraderie among the teams was clear to see. Our golf events have become a very popular fixture for automotive aftermarket companies in all areas of the supply chain and offer fantastic networking opportunities, in addition to raising much needed funds for our industry charity BEN."
In total, IAAF golf days in 2019 have raised £730 for BEN, a charity exclusively available to those who work, or have worked, in the automotive industry, as well as their family dependents.