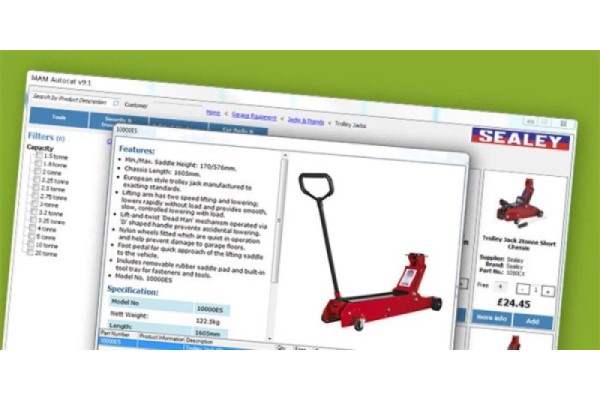 Sealey first to support new MAM accessories catalogue
---
23 Apr 2019
Category: Articles, Press Releases
Supplier to include its range of professional tools and workshop equipment
Jack Sealey Ltd, one of the UK's largest tool and equipment suppliers, is the first company to commit to providing data to MAM Software's forthcoming accessories catalogue.
The groundbreaking new catalogue will be among the latest features introduced in Autocat v9.1 and supports tools, equipment, car care, consumables and accessories.
Factors and retailers can access the catalogue to easily search, filter and compare products from individual brands. Price and stock information is available and users can add parts to the point of sale screen.
Suppliers are able to upload products, specifications and photographs to the system, increasing their visibility to existing Autocat customers. Sealey is currently working with MAM to include its range of professional tools and workshop equipment.
Tim Thompson, commercial director at Sealey, said: "Making the full Sealey catalogue available to MAM users with both images and technical specifications inside the application is a powerful proposition to our automotive customer base.
"We envisage that this will allow users to find product information faster, hopefully leading to more informed buying decisions."
Nigel Clemett, general manager at MAM Software, added: "The potential of this accessory catalogue is huge, not least because it gives users the ability to see price, stock, images and other information at the click of a button.
"We are confident that Sealey will be the first of many companies to reap the benefits of placing their catalogue in front of Autocat users."
Autocat is MAM's comprehensive electronic parts catalogue which enables users to quickly find the components they need for any vehicle or application. The software is suitable for motor factors and automotive parts retailers ranging from single to multi-site operations.