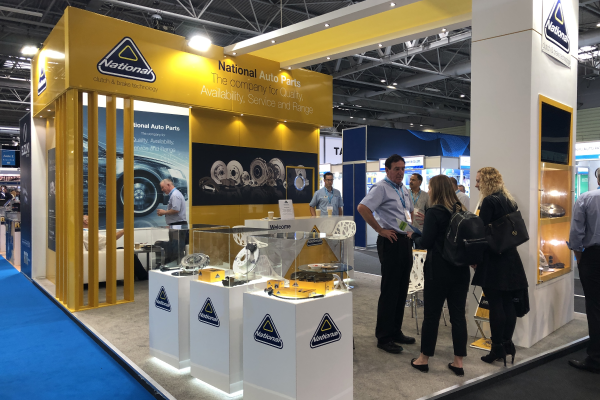 No stopping National following Automechanika Birmingham
---
05 Jul 2019
Category: Articles, Press Releases
National Auto Parts presented a series of new products and innovative showcases that have driven further business to its door following Automechanika Birmingham 2019, hailed as "the best exhibition held in the UK for a long time" by Managing Director David Houlden.
The show proved a monumental success for the leading clutch and brake specialist, as it welcomed a high footfall to its stand which attracted a high number of visitors due to its domineering position and striking layout.
National highlighted its market-leading engineering capabilities to new and existing customers through its full product range of clutch and brake components, covering brake discs, brake drums, brake pads, clutch kits, clutch concentric slave cylinders, conventional solid flywheel replacement kits for dual mass flywheel applications and wheel hub units for passenger cars and light commercial vehicles.
It also introduced three new product groups of brake shoes, brake hoses and wheel cylinders, with brake shoes currently experiencing a growing trend and National launching its own range, featuring a low noise friction formula, in response to popular demand.
David Houlden, National Auto Parts Managing Director, said: "The show was the best exhibition held in the UK for a long time and the quality of visitors was extremely high. Business has been positive as a result of the show, with potential for growth with new and existing customers.
"It was fantastic to see so many visitors genuinely interested in our new products and future plans – our specially designed stand helped us to showcase the potential of the National brand."