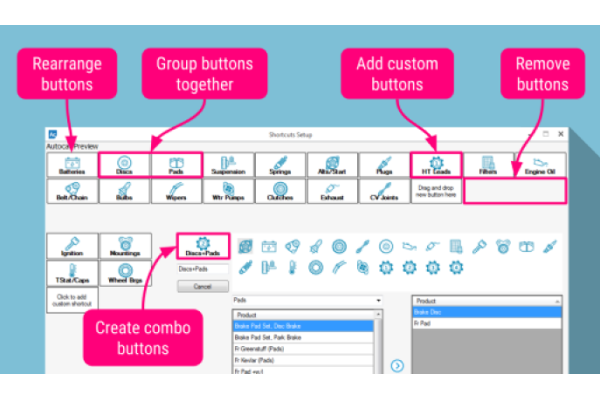 MAM reveals upcoming developments for popular vehicle parts catalogue
---
02 Apr 2019
Category: Articles, Industry News, Press Releases
Autocat v9.1 will add a host of new features including support for accessories, customisable buttons and MOT history
Leading provider of software and data solutions MAM Software has revealed its upcoming developments for Autocat, which will be rolled out over the coming months.
Autocat is a comprehensive parts catalogue that enables users to quickly find all the components needed for any vehicle or application. Using information that is automatically updated via the internet, Autocat provides instant access to the most up-to-date specifications and enables data from multiple suppliers to be easily researched and compared.
A number of features will be added in the v9.1 release of the software, providing useful additional functionality and enhancing the user experience. These include:
A new accessories catalogue* with support for tools, equipment, car care, consumables and accessories. It will enable users to easily search, filter and compare products from individual brands.
The ability to customise the layout of shortcut buttons that appear in the new quick-access menu. Users will be able to select which product groups feature in the menu and arrange them as required.
A new button to view a vehicle's MOT history and due date using the DVSA database.
Tick boxes on the main grid so results can easily be filtered before being passed to the comparison screen.
The ability to right click an engine number so details can be copied to the clipboard and used in other applications.
The ability to right click and hide lines on an ad hoc basis to better filter results when carrying out manual lookups and comparisons.
An option to make the new tree view the default view.
Nigel Clemett, general manager at MAM Software, said: "Developing our products is essential to making sure our customers' needs continue to be met. These latest features are being implemented as a direct result of user feedback, adding some of our most-requested functionality to the catalogue.
"By including support for generic products such as tools, equipment, car care, consumables and accessories, we are creating an indispensable reference tool for staff working at the trade counter. We are currently liaising with a number of suppliers and will be making further announcements shortly."
*The accessories catalogue will be available as a chargeable extra.