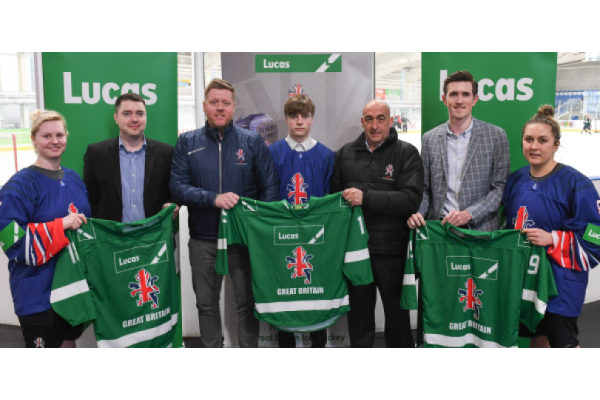 Lucas brand World Championship sponsors of GB ice hockey team
---
09 Apr 2019
Category: Articles, Press Releases
Brand's commitment reflects growing partnership 
Standard Motor Products Europe (SMPE) has announced that the Lucas brand is now proud sponsor of Team GB for the 2019 IIHF Ice Hockey World Championship.
As part of the sponsorship agreement, Lucas branding will appear on the GB World Championship Jersey and all replica jerseys, in addition to tapping into the sport's increasingly popular marketing platforms such as social media and game merchandise.
The tournament, which takes place in Slovakia between 10-26 May, will be broadcast globally to a TV audience of 1.9 billion across 130 territories including Europe, USA, Canada, Russia and China. Ice hockey has grown increasingly popular in the UK over the past 12 months to become the most watched indoor sport in Britain, with higher visitor attendance at live games and a surge in the number of social media followers.
This is the first time in 26 years that Great Britain has qualified for the top-level championship after winning two successive Gold Medals in 2017 and 2018 to gain promotion from Division 3 and 2 respectively.
This comes one month after the iconic Lucas brand made history when it sponsored the first ever free-to-air live ice hockey match between Nottingham Panthers and Cardiff Devils on 26 January, which saw the Panthers triumph 2-1.
Team GB are in Group A and will go head to head with Germany in their first World Cup match on Saturday 11 May, before facing Canada on Sunday 12 May.
The Lucas engine management brand is distributed to customers throughout Europe by Standard Motor Products Europe (SMPE). From 1 May 2019, the company will also acquire the license to supply the Lucas brand to customers in the UK & Ireland, with many expected to benefit from SMPE's considerable investment in range re-profiling, packaging and cataloguing.
Ross Toomey, Standard Motor Products Europe's managing director, believes the Lucas sponsorship hails the beginning of what promises to be an exciting partnership, as it strengthens its ties with the sport. "We're delighted to partner with Ice Hockey UK to support all GB teams to create a legacy off the back of the men's return to the top level," he said.
"By sponsoring the team under the iconic Lucas brand, SMPE hopes to increase the awareness and development of the sport on a national level. This partnership also forms part of the next exciting chapter for Lucas, as we shortly become official Lucas licensees in the UK & Ireland, to match our current licence agreement in Europe."
Ice Hockey UK general secretary, Andy French, said: "We are very excited by the sponsorship deal with Lucas. We are proud to have them on-board with Ice Hockey UK and the Great Britain national team. Lucas is a well-known brand and we are really looking forward to linking up with them.
"It is major sponsorship deal in the history of IHUK and GB – and we look forward to working with Lucas. We hope this is the start of a long and fruitful relationship between Lucas and Ice Hockey UK."
The Lucas engine management programme includes: Ignition coils, cam/crank sensors, air mass meters, lead sets, coolant temp sensors and oil pressure switches, engineered by SMPE in the UK and Poland.