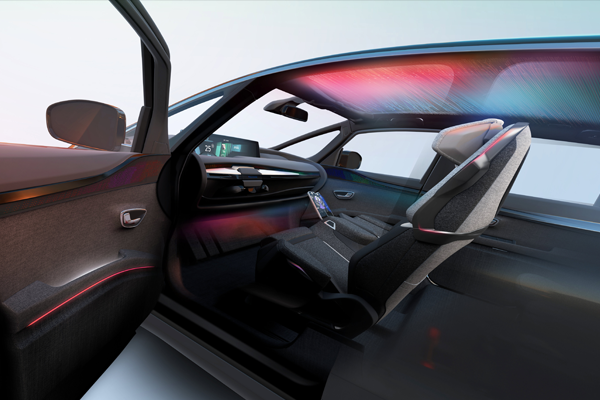 HELLA and Faurecia present concept for vehicle interior of the future
---
18 Oct 2018
Category: Articles, Industry News
Dynamic interior lighting solutions from the future will be shown in HELLA and Faurecia's concept vehicle at the Paris Motor Show.
HELLA, the lighting and electronics specialist and the French technology automotive supplier Faurecia, are working together on technologies for tomorrow's vehicle interiors. For this purpose, HELLA supplies innovative products in the field of interior lighting and Faurecia contributes its expertise as a complete system integrator for vehicle interiors. The two companies have integrated the first solutions into a vehicle that can be seen from 2 to 14 October 2018 at Europe's most important motor show, the Paris Motor Show.
Automobile megatrends such as connectivity, individualisation and autonomous driving will change the onboard experience. "HELLA is, therefore, developing dynamic interior lighting solutions to support these trends while offering drivers safety and comfort at the same time," says John Kuijpers, Head of Interior & Car Body Lighting at HELLA. A concept car illustrates what these solutions can look like. Before the driver enters the vehicle, their profile and preferences are recorded and stored in the cloud, and then communicated to the cockpit. This allows for a personal greeting with light animations in the instrument panel, door trim, roof, and seats. During the journey, additional lighting features are used for communication. For example, light signals can be used to display incoming calls without disturbing other passengers.
"Our goal is to use automotive lighting technology not only to enhance people's well-being but also their safety," says John Kuijpers. HELLA and Faurecia are therefore working together to ensure that the division of tasks between driver and vehicle are carried out safely during the handover phases at the end of an autonomous driving session. The seats then bring the driver back into the appropriate driving position and a dynamic lighting scenario is used to increase concentration and attention.