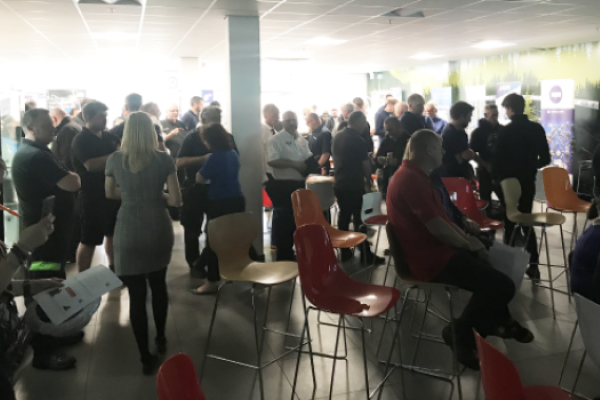 Garages flock to Your Car – Your Choice Awareness Day
---
23 May 2019
Category: Articles, Press Releases
​"Perfect platform to take campaign to next level"
The Your Car – Your Choice pilot project in Chesterfield has taken another huge step forward following the first ever garage awareness day.
More than 100 people attended the event, held at Bilstein Group, Markham Vale as garages were able to find out more about their rights under block exemption regulations (BER) and hear presentations from automotive aftermarket suppliers supporting their right to service and repair vehicles within the warranty period.
With the next steps being the rollout of the campaign to the people of Chesterfield, it was important to bring as many garages together as possible from the area – invited to the event by IAAF distributors including Autosupplies Chesterfield, Bullseye Car Parts and Road & Rally – to ensure they are fully up to speed with their rights and are confident in challenging any misunderstandings motorists may have.
Under BER, any independent garage can service and repair any car within the warranty period providing replacement parts used are of OE-matching quality and are recorded as such. Vehicles must be serviced in accordance with the vehicle manufacturer service schedules. (T&Cs apply)
Vehicle Manufacturers have a duty to honour the vehicle's warranty when it is serviced outside of the dealer network, and non-OE parts fitted onto a vehicle is an insufficient reason for the warranty to be declared invalid.
IAAF Head of Membership Development, Mike Smallbone, said: "The event demonstrated that there is a hunger from independent garages for more information so that they can have the confidence in tackling the misconceptions surrounding this issue. Garages are the first line of defence in promoting this choice and so it's important that suppliers, motor factors and everyone involved in the supply chain supports this campaign.
"I would like to say a big thank you to our hosts Bilstein Group and supporting distributors and suppliers that made this event and pilot project happen. It is the perfect platform for us to now launch our consumer campaign to the people of Chesterfield."
​Major automotive companies have signed up to support the pilot project. These include: Automechanika Birmingham 2019, Bilstein Group, BM Catalysts, Comline, Comma, First Line, Hella, Impression Communications, Kilen, MAHLE Aftermarket UK, National Auto Parts, SMPE, Tetrosyl, TMD Friction, Johnson Controls (Varta), WAIglobal UK and ZF Aftermarket.
No garage went away empty-handed as suppliers and distributors gave away merchandise and participated in the prize raffle, with over £1000 worth of prizes given away.
More information on Your Car – Your Choice can be found here: www.yourcaryourchoice.co.uk