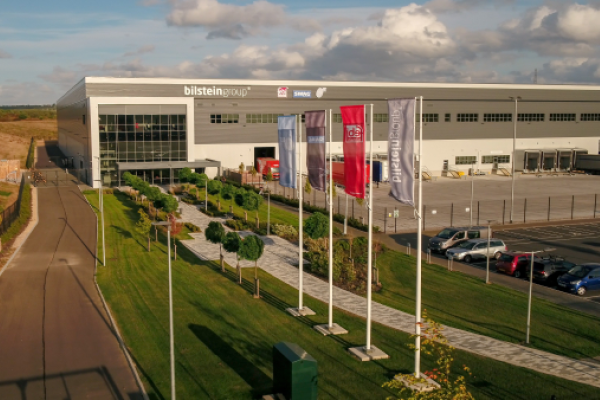 Ferdinand Bilstein UK reaps benefits from electronic trading
---
12 Jun 2019
Category: Articles, Press Releases
PACT supports state-of-the-art Markham Vale facility
Replacement parts specialist Ferdinand Bilstein UK has moved to the next phase of electronic trading through PACT, streamlining its communication with parts distributors from its state-of-the-art distribution centre in Markham Vale.
The partnership between PACT and Ferdinand Bilstein UK began in 2003. Over many years of market change and company expansion, connectivity has remained uninterrupted allowing for seamless trading with customers.
Mark Rudge of PACT explains: "In addition to all the benefits that PACT brings, Febi's ongoing customer connectivity has been seamlessly maintained ensuring continuity of service. The next phase sees Ferdinand Bilstein UK's Markham Vale site set the new benchmark for how the best in the market do business. It also highlights the role PACT can play in supporting a company's connectivity migration."
Ferdinand Bilstein's new 212,771 sq ft purpose-built distribution centre, situated just off junction 29A of the M1 and offering excellent transport links, was completed in 2017 as the site for its UK based operations. PACT was brought onboard to support the business as part of its ongoing objective to improve its distribution capabilities and provide better access to its customers across the UK.
PACT automates procedures from a distributor's business management system to a PACT-enabled supplier, such as Ferdinand Bilstein UK, in an efficient manner, dealing with processes such as stock enquiries, ordering and the exchange of order acknowledgements, dispatch notes and invoices.
The €45million investment ensures that Ferdinand Bilstein UK customers are connected through a variety of sources. Orders placed by the customer go into the company's own SAP system, allowing all orders, delivery notes and invoices to be automated.
In addition to a more efficient trading relationship, the benefits of PACT are reduced time to information through real time connectivity leading to: Enhanced availability of parts, accurate pricing, fewer invoice discrepancies, optimised good inwards process and, invoice matching capability.
Through its online catalogue, Parts Finder, wholesalers, motor factors and workshops are offered quick, easy access to over 60,000 part numbers covering all vehicle types in OE matching quality. With its semi-automated, high-performance distribution centre,  availability of product is consistently over 97 percent and mis-picks are near to zero.
Gary Taylor, Head of Sales & Marketing – UK & Ireland Ferdinand Bilstein UK, said: "Such is the extensive reach of PACT, more than 70% of all our incoming order lines are managed electronically and, as a result, order processing in its traditional sense is largely a thing of the past for us."
"PACT has played a major role in supporting the ongoing electronic trading at the company during the major changes we have been through over the past year or so. The process has proven to improve internal processes and also help create better support and service for all of our customers across the UK."
Rudge added: "Ferdinand Bilstein own the land, the warehouse and the first-rate tech therein, sending out a clear message that they are ready for the future and here for the long-term, with PACT working alongside them throughout."
PACT provides a free audit to suppliers to determine their electronic trading usage, ranging from the number of transactions and volume of data exchanged, in order to arrive at a cost for implementation within the network.