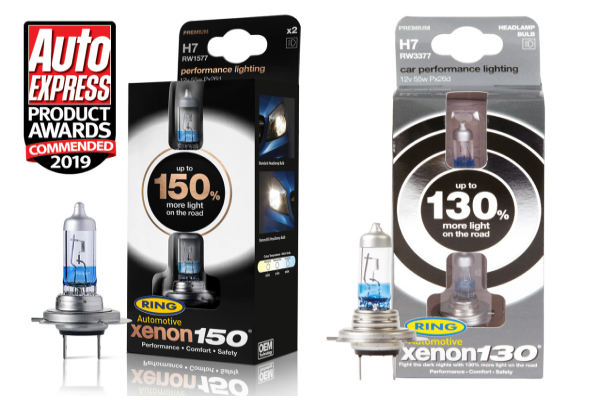 Double Auto Express Commendation for Ring Brighter Bulbs
---
02 Jul 2019
Category: Articles, Press Releases, Product News
Ring's Xenon150 and Xenon130 brighter headlamp bulbs have both been "Commended" in this year's Auto Express Product Awards.
The annual awards round up the best automotive products, showcasing the best from each category. Ring's high-performance headlamp bulbs both achieved good test results, being labelled "top performers".
The magazine's team tests the bulbs by combining light readings at 50 and 75 metres. They also measure the entire beam, calculating how much of the output was above 30 lumens, plus the beam's length. The magazine also checks the bulbs are within legal limits and are conforming to E mark standards.
With both of Ring's top brighter bulbs performing well, we're proud to maintain our track record as award-winning, high performance bulbs.
For more information, visit www.ringautomotive.com
Ring's Brighter Bulbs: Vital Statistics
 Xenon150
Xenon130
  Brightness
 150% brighter than standard
130% brighter than standard
  Colour temperature
 3700K
 3700K
  Beam length
 +80m than standard
 +60m than standard
  References available
H7

H4

H7

H4

H1

H11

HB4

  Road legal
 Yes
 Yes
  Wiring changes?
 No
 No