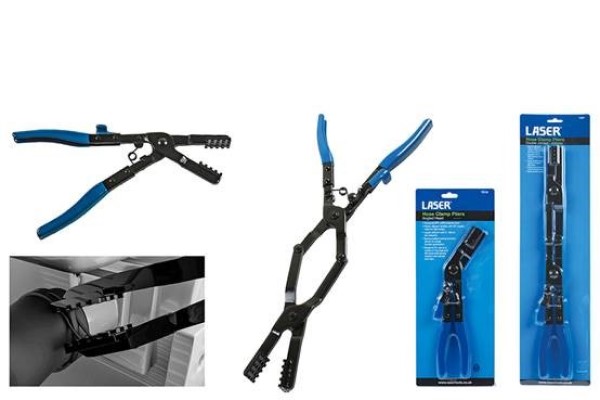 Difficult to access hose clamps? Try these new specialist hose clamp pliers from Laser Tools.
---
19 Jun 2019
Category: Articles, Press Releases, Product News
Hose clamps can be difficult to get to, especially if they're located right down at the bottom of the engine bay where access is difficult. Reach for these new double-jointed hose clamp pliers from Laser Tools (part number 7397). In a really tight location you just haven't got the room to spread the handles wide — the double-jointed design and spring-assisted handle means easy one-handed operation and the useful 430 millimetre length lets you get right down between the engine and radiator. The lattice-shaped tooth design lets them grip the tangs of the clamp securely at any angle — even from the side. They can also be locked to hold the clamp open while you work — easy when you've got the right tool!
Sometimes the access to the hose clamp can be obscured or blocked by other engine components. For example, hidden under the header tank, or the clamp may have been fitted at an angle that's going to make it difficult to access. The solution is the new angled-head hose clamp pliers (part number 7518), that have also just been introduced by Laser Tools. These pliers feature a 35-degree angled head and 265mm length and they are specifically designed to gain access to those tight areas. Same lattice-shaped tooth design as the 7397 and also feature the spring-assisted handle and locking mechanism. Both sets of hose clamp pliers are designed for use on a variety of ring type and flat-band style spring-loaded hose clamps and clips.
Two useful additions to the tool kit — you'll wonder how you did without them! Available now from your local Laser Tools supplier, typically priced at £57.91 for the 7397 and £43.58 for the 7518 (price includes VAT), but remember to check for the best prices and special offers.
See these new double-jointed hose clamp pliers in action on the Tool Connection YouTube channel: https://youtu.be/C7qW6Y7FVEg
More details from www.lasertools.co.uk