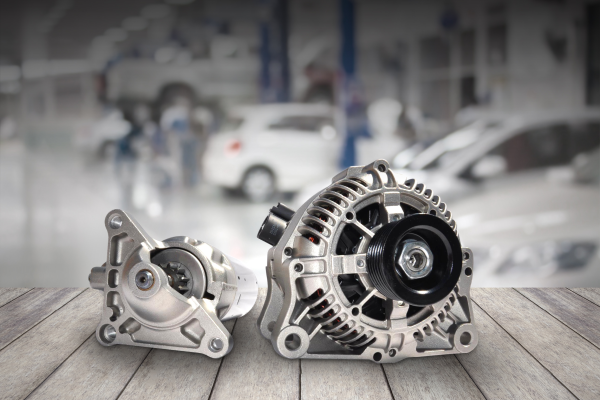 Common symptoms for rotating electrics failure
---
21 Oct 2019
Category: Articles, Press Releases
HELLA reveals top tips for technicians
Chipping Warden. 21st October 2019. With a high dependence on vehicles, it's critical for drivers that their vehicle runs smoothly, efficiently and reliably. Original equipment (OE) manufacturer and systems supplier, HELLA, understands this need, which is why it focuses on providing premium quality components, especially when a faulty component could lead to motorists being stranded.
While there are a variety of reasons why rotating electrics may develop faults, there are common symptoms and causes that technicians should be aware of and look for. As these parts are so important in the running of the vehicle, it's crucial to recognise these potential problems quickly and resolve them.
Starter Motors
There are common symptoms that may indicate a fault in the starter, such as no response when actuating the ignition switch: the starter 'clicks' but does not engage or it audibly turns but without the motor engaging with the flywheel.
A starter malfunction can have different causes including a faulty electrical connection, the solenoid switch (engaging relay) is stiff or faulty, the electric motor is damaged electrically or the single-pinion gear, starter pinion or freewheel has been damaged.
Battery voltage may also be a factor to consider and/or loose (high resistant) connections.
Dependent on the problem, technicians should look at the starter and decide if it needs to be replaced.
It must also be noted that some vehicles have inherent faults such as ignition switch failure, which again can cause premature failure of the starter motor.
Alternators
Symptoms for a faulty alternator can include the charging indicator warning light coming on, starting difficulties due to an insufficiently charged battery, the battery becomes too hot due to charge overload, the headlights get brighter or dimmer in relation to the engine RPM or bulbs burn out more quickly than normal.
Alternator malfunction is not always due to an internal fault, such as a faulty winding, rotor, rectifier or control unit. So, before replacing the alternator, additional components should be considered as a cause and checked.
The cause may be because of a prematurely aged or faulty battery, corrosion or loose electrical connections causing high resistance to the alternator, loose/faulty auxiliary belt or belt tensioner spring being to loose/tight or the tensioner bearing faulty.
While these are simple things to look out for, technicians should be aware of them but if the component needs replacing, it's always best practice to replace it with one of premium or OE quality. It also best practice to make sure that the battery is fully charged before using the replacement alternator or starter motor.
All HELLA starter motors and alternators provide just such a solution and undergo rigorous testing to stringent OE specifications, with more than 40 check points on critical parts and processes, which ensures their reliability.
The range compasses more than 1,000 references and by providing OE quality units, HELLA enables motor factors and workshops to offer their customers a reliable 'fit right first time' product that minimises the time the vehicle is off the road.
For more information, visit HELLA Tech World https://www.hella.com/techworld/uk/Car-parts/Auto-electrics/Starters-and-alternators-47468/ or about any of the OE quality products available from HELLA, please call customer services on: 01295 662400 or email hella.sales@hella.com